Munich Airport: Legoland mit Bier und NapCab
Posted on: 2010-06-27
After Heathrow, arriving at Munich airport feels unreal. The entire place feels like a Lego kit. One whole terminal is devoted to Lufthansa, with its identical clean white planes with their Helvetica lettering. There are two dozen gates, arranged in perfect efficient order. The little support trucks and orange-clad crews make it look even more like a Lego set.
Munich airport is actually huge, but the ceiling is low and everything is well planned out to give the impression of human scale - the total opposite of, for example Pearson's overwhelming stadium-sized Terminal 1.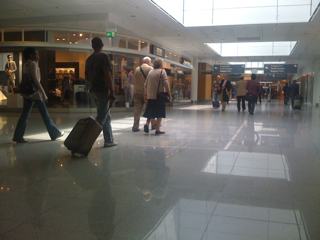 There were two other great things about Munich airport: the ersatz beer hall, which serves "Fliegurquell" and "Kumulus Weißier" by the half liter; and the NapCab privacy pods.
NapCab seems to be a local pilot project, but I hope it spreads to other airports. I've heard of similar things in Japan, but these are the first ones that I've actually seen, let alone used.
Basically, a NapCab is a small box inside the airport with a door that locks, a small bed, plug-in Internet, and a touch-screen that lets you set music, mood lighting, and a wake-up alarm. It costs 15 euros per hour during the day, and 10 euros per hour at night.
This turned out to be perfect for me: I can't sleep on an airplane and had just finished an all-night flight and a messy change at Heathrow. Also, as always happens when I'm spending a a day flying, I had client emergencies that had to be dealt with. A place with a solid reliable connection to the internet, power plugs, and real bed with some privacy, where you can doze off without worrying about getting your stuff lifted: this is like a desert oasis for an international traveller with a long layover.